Students of CNUT participated in the youth exchange in Poland
---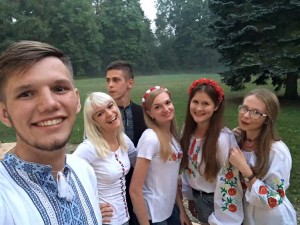 From 12 to 17 August 2018, students of CNUT: Baranenkov Pavlo, Velychko Olha, Hryts Anastasiia, Kononenko Serhii, Kuzmenko Danylo (FEIT), Pekurovskyi Vitalii and Prybytko Mariia participated in the project "Together in the past".
The project has been implemented by the Polish institution "Youth Education and Work Center OHP in Biała Podlaska " in partnership with NGO "Chernihiv European" supported by the Polish-Ukrainian Youth Exchange Council.
The exchange took place in the educational complex "Roskosz" (Biała Podlaska, Lublin Voivodship) under the slogan "Two countries – common history". The program included linguistic and media workshops, hand-craft classes, national cuisine presentations, workshops on folk crafts, integration games and acquaintance with the cultural-historical heritage during trips to Biała Podlaska and Lublin. The participants of the exchange learned more information and discussed complicated moments in the joint history of Ukrainian and Polish nations during the visit to Maydanek – the concentration camp of the Second World War.
The youth program also included exchange of the customs and traditions of Poland and Ukraine during the evenings of national culture.
Through their participation in the program, students gained new knowledge and experience to share with their groupmates.